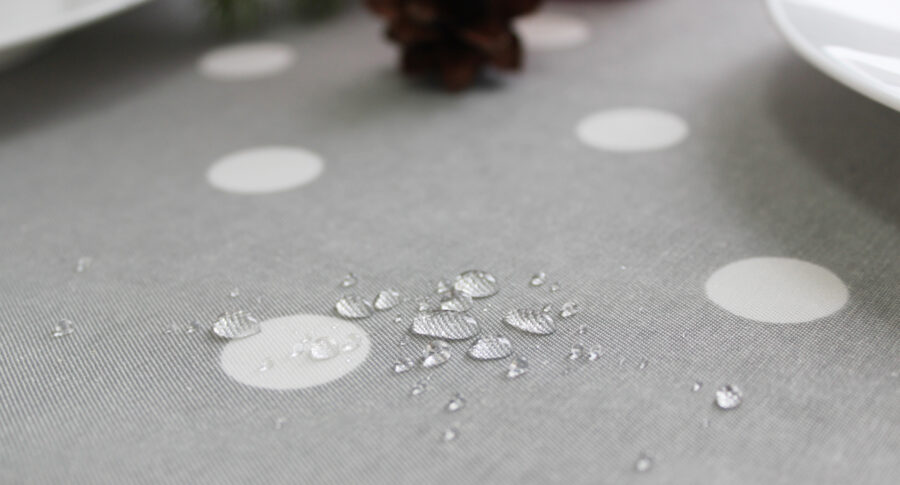 Bringing oilcloth to the table.
Oilcloth is a traditional waterproof fabric, used for many years to provide an easy wipe-clean surface and growing in popularity in recent times. So when one of our clients asked for a long-lasting, waterproof option to expand their designs into a tablecloth range, we suggested it as the ideal solution.
Many people confuse oilcloth and PVC, but there are important differences. PVC is 100% plastic, totally man-made and with a more rigid feel; oilcloth is made from woven cotton that's covered with a waterproof coating of polyvinyl chloride, so has a softer feel and is much more malleable. Due to the cotton weave, oilcloth lasts longer than PVC. It's classed as sustainable when specified with 100% organic cotton too.
Working closely with our client, we brought oilcloth into their production line both for printed fabrics and finished products. The first stage was to apply the coating to fabrics that would be made into tote bags, aprons, make-up bag linings and tablecloths, and then it was also expanded to fabric by the metre.
Our client was delighted with the results, and having successfully satisfied their need for a waterproof option we've incorporated it into our own ranges. Our washbags, aprons and tote bags are all currently available to order online in oilcloth; for other products such as tablecloths and picnic blankets, or fabric by the metre, simply get in touch.
The only factor to bare in mind with oil cloth is that the oil cloth coating is waterproof, but the reverse of the cloth is not as it is just the Panama cloth on the reverse, if the Panama cloth gets wet underneath, water could penetrate through the other way around. Also, if the oil cloth coating gets punctured by a hole, water could seep through that way. The fabric is most ideal for table cloths, where it is not coming into contact with large amounts of water on the reverse