Make it all under one roof.
Our ability to produce custom-printed fabrics and textiles is second-to-none. And one of the reasons for that is our expertise across the range of digital printing technology we use. It enables us to make large quantities of fabric or specific one-off items and gifts with equally high levels of quality, opening up a whole world of colour and design possibilities.
Reactive Digital Textile Printing
Our digital printing equipment uses reactive inks for a better wash and rub fastness, along with brighter colours and a softer feel compared with pigment printing. This technique allows high quality photographic images to be reproduced too – simply provide us with the design as a single repeat or an image, and we'll make it happen.
Learn more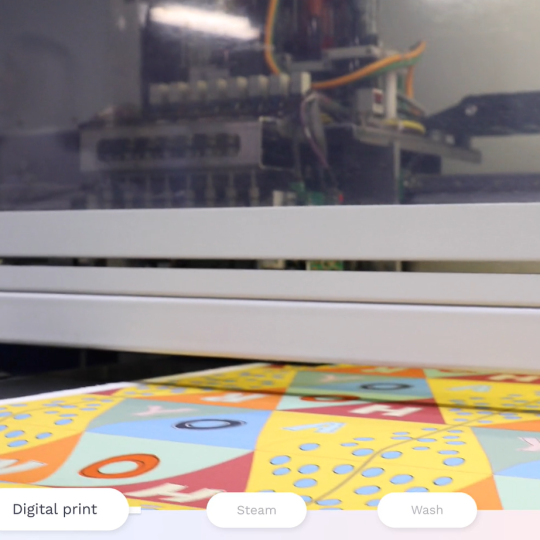 Digital Sublimation Printing
For sublimation printing, your design is first printed on a specific paper as a mirror image using a digital file, then heat transferred to the fabric to appear the correct way round. There's no limit to what can be printed, be it an image, photograph, colour or text, and as it enables us to print on polyester it's ideal for outdoor flags and banners, or can be used on a high quality polyester velvet for bespoke cushion covers and bags.
Digital Pigment Printing
Our newest process is pigment printing. First, fabric is coated ready for digital print, and then using a digital file, the file is printed via our Mimaki pigment printer using pigment inks. During the printing process, a heat lamp is used to dry the ink to prevent any kind of smudges to create a perfectly neat print. Once the fabric is printed , the fabric gets heat fixed as the final processes- from this, the order is then ready to go
Rotary Screen Printing
Rotary Screen Printed Fabric is created by pressing printing paste or ink through mesh on a cylindrical screen onto the fabric, with a separate screen engraved for each colour. It's a high quality process that allows us to print up to 1.85m wide, with up to 6 colours per design and offers excellent value on substantial volumes.
Our fabrics
Whether you require a few metres for sampling purposes, thousands of metres of production, a full CMT (cut, make and trim) service, or a one-off, personalised product – we stock a huge range of high-quality fabrics to offer low lead times and quick delivery times.
Are you ready to explore the possibilities?