Oven Gloves
Where better to add a touch of flair and individuality than in the kitchen? Whether it's serving up gourmet creations to guests or hot dishes with everyday family meals, our bespoke double oven gloves are both durable and comfortable.
Made from 100% cotton panama with heat-resistant towelling to protect your hands, they can feature a hanging hook for easy storage as well as your own personal design printed in reactive inks to keep their colour longer. Our custom printed oven gloves make fantastic gifts, and have proved very popular with craft stalls and Etsy stores.
Our oven gloves conform to the current PPE regulations (you can download our certificate here) and a label to show certification is included on the product.
Product Information
Item specification:
Our customised oven gloves are digitally printed on lightweight, breathable and absorbent cotton and are available with a printed or toweled reverse. You also have the option to add a hanging loop and specify the colour of your binding (Available in black, white or natural).
Other important information:
Available Materials: 100% Cotton or 100% Organic Cotton / Bleached or Natural
Finished Size: 96 x 20cm
PPE regulation compliant
Artwork must allow for a 1cm hem each side
PPE certification label included
Additional Features
With our custom oven gloves, hanging loops are included as standard and will be added to match the colour of your chosen binding.  You'll also be able specify the packaging that works for you. This includes the option for each oven glove to be individually packaged and/or the addition of swing tags, branded labels and belly bands.
Considerations
Please be aware there is a commercial tolerance of + or 10% on all orders.
*As digital printing is done on natural fabrics there may be loose fibres that can cause white specs. Samples are highly recommended to ensure correct colour, scale, placement etc are to the customers satisfaction.
Pricing & quantities
Select a material to view prices:
Price ranges:
Our double oven gloves are available in multiples of 7 with the following price breaks. A minimum order quantity of 28 applies.
Prices do not include VAT and carriage.
| | |
| --- | --- |
| Quantity | Price per item |
| 28 | £9.00 |
| 100 | £8.84 |
| 500 | £8.58 |
Additional Features:
Hanging loops - Available in black, white or natural (Included as standard - colour to match binding)
Individually packaged (+ £0.15 per item)
Swing tags attached - providing by you (+ £0.10 per item)
Your own branded label - printed & attached by magic (+ £0.20 per item)
Sewn in supplied label (+ £0.05 per item)
Option to add a printed reverse (instead of toweled) ( £0.20 per item)
Belly bands (+ 0.35 per item)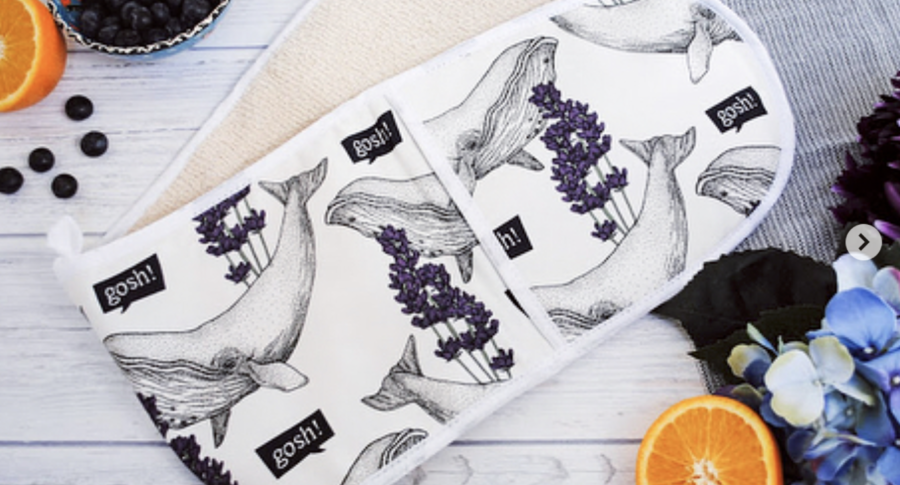 Artwork templates and guidance
300 dpi or above.
PDF, jpeg, ai, psd, tiff files only.
CMYK or RGB, however our printer profile converts files to RGB when printed, so please bare this in mind.
Please add profiles on before sending over EG (24 bit file = RGB) (32 bit file=CMYK).
Label artwork must be provided in JPEG, Black and White formats only.
Competitive pricing and bend over backwards to make things work. Highly highly recommend.
Smug Products
Not the spec you're looking for?
As we house all our printing, cutting and sewing facilities on site in one location, we can also make bespoke customised oven gloves at a competitive price, get in touch to discuss your requirements (for larger orders only).
Get in touch